The rush to blame Eric Cantor's loss to his support for immigration reform ignores facts: others who supported immigration reform won and exit polls show voters support reform but don't trust Cantor to represent people in his district.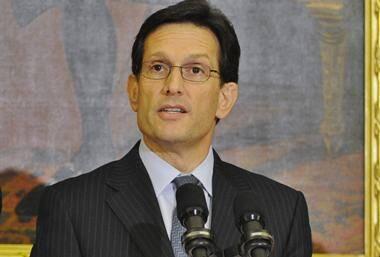 From INA News photo.
Here are some sources with facts.
ATLANTIC: How Lindsey Graham Stomped the Tea Party // Molly Ball
On paper, Senator Lindsey Graham, Republican in South Carolina, is the right wing's juiciest target, but he defeated all candidates. An unapologetic champion of bipartisanship and compromise, he has worked with Democrats on initiatives such as immigration reform and climate legislation.
WASHINGTON EXAMINER: This prominent conservative says immigration reform isn't necessarily dead // Betsy Woodruff
Grover Norquist doesn't believe immigration reform has to be a death knell for its Republican supporters.
"It didn't happen in [House Speaker John] Boehner's district," he said. "It didn't happen in other House districts. Paul Ryan is very strongly, emphatically pro-immigration reform and doesn't have these sorts of challenges.
Susana Flores, sflores@casadeva.org; 240-706-2624 For Immediate Release June 10, 2014
Cantor Lost Election Because He Ignored District
Poll today shows that Republicans in 7th District Overwhelming Support Immigration Reform
RICHMOND, VA)—More than seventy Virginia activists this evening disrupted the "victory" celebration of Congressman Eric Cantor (VA 7).  Frustrated about his lack of action to resolve the immigration crisis, activists told the crowd that Cantor lost because he was inattentive to the district and that people in Virginia demand reform of the immigration crisis.
The protest came at the end of a day in which activists spanned out across the highest voter turn-out precincts in the district to ask the question: SHOULD CONGRESSMAN ERIC CANTOR INITIATE ACTION TO RESOLVE THE IMMIGRATION CRISIS?  And overwhelmingly in a primary election attracting solely Republican voters to the polls for a passion play challenge from the hard right, people answering the question responded with a resounding yes.
"Congressman Cantor should have listened to his constituents and this is why he lost," said 7th District resident Raul Benitez. "Although Brat may be anti-immigrant, all the evidence shows that this is a vote against Cantor, not a vote against immigrants."
Across the seven precincts today, 89 percent of voters urged Cantor to move on immigration.